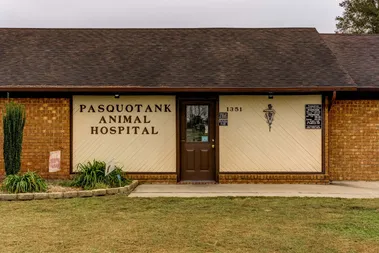 We have veterinarians at Pasquotank Animal Hospital in Elizabeth City, NC, ready to help you and your pet. Our team of professionals are all focused on one thing, which is the optimal care and pet wellness of your furry friend. Visit us at our animal clinic to get the pet care that your pet needs to stay happy and healthy.
Services Available
The veterinarians on our team are focused on giving your pet the best quality of life possible by helping them to remain healthy and active. At our animal clinic, pet wellness is our priority. Pet care services here include preventative care, health checkups, routine care, dentistry, heartworm treatments, surgical procedures, eye care, pet boarding, microchipping, vaccinations, euthanasia, in house laboratory, health certificates, acute care, spay and neutering, blood transfusions, small pet care, and more. Call ahead, if possible, so the appropriate care can be advised to you regarding your pet's particular health crisis. You can also find helpful and informative articles on our site regarding pet care and other pet topics.
Why Are Routine Wellness Appointments Important?
There are a variety of different diseases and health problems that your pet might develop that you could have no idea about until you get your pet seen by a veterinarian. We can check your pet's weight to make sure that he is not eating too much or too little. We can check your pet's mouth to make sure that he does not have any dental disease that could be causing him pain or that could lead to more serious issues in the future.
At this time, we can also supply your pet with the appropriate vaccinations so that he stay protected from the various different diseases that could harm his health. You might forget about these vaccinations if your do not bring your pet in on a regular basis. You can also ask us questions about his health and any concerns you might have during the appointment. Lastly, routine wellness checks can give you peace of mind knowing that you have had a veterinarian at our animal hospital check on your pet to make sure that they are okay.
Make Your Pet's Appointment with Us
Our caring team at the Pasquotank Animal Hospital welcomes both you and your pet to our animal clinic. Make your pet's appointment for a complete check up by calling us at (252) 264-3371. We are equipped to handle a variety of pet health issues at 1351 US 17 S., Elizabeth City, NC, 27909. Stop in to visit our animal hospital to see the care we can give to your pet.