Dr. Leigh Rigler (Lead DVM)
Dr. Leigh Rigler grew up in Virginia Beach and moved to NC during high school. She graduated in 2009 from NC State with a bachelors of science focused on animal science. She then went to Oklahoma State University where she obtained her Doctor of Veterinary Medicine in 2013. She came back home to NC and started here at Pasquotank Animal Hospital with Dr. Cooper and worked under him for 7 years as Dr. Isenberg. She then moved on to a practice in Grandy for 2 years. Pasquotank Animal Hospital, however, has always been her home so in 2022, after having her second child, she returned to Pasquotank Animal Hospital as Medical Director/Lead DVM of the hospital. She treats everyone's pet as if they were her own and feels very passionate about client education and communication. Her areas of interest include surgery, pain management in arthritic patients, and special needs pets. In her free time, she enjoys spending time with her husband, two children, and her 4 dogs/4 cats. She enjoys traveling, riding her horse on trail rides and going to the beach or park.
---
Dr. Carolyn Gilliland
Dr. Gilliland is a native to Tennessee. She attended Tennessee Tech undergrad and University of Tennessee vet school, graduated in 1984. Started her veterinary career in Chesapeake VA. Later moved and practiced in Northern Virginia for 5 years, then moved back to North Carolina. Add being a librarian to her skill set among other great qualities. She has become proficient in fear free exams. Addresses medical diagnosis clearly and constructively that the owner has no problems comprehending. Dr. Gilliland takes her time and is very thorough with each of her patients. Preventive care, client relationships, contributing to a beloved family members health and long-life span is her favorite things. Began with Pasquotank Animal Hospital in October of 2020. Spends her spare time with her husband and four cats. We are so lucky to have found such a wonderful veterinarian.
---
Dr. Blake Lucas
Dr. Lucas has recently joined us as Pasquotank Animal Hospital. He is a new graduate who started practicing veterinary medicine in February of 2020. He completed his Bachelor of Animal Science at the University of Massachusetts where he was a kicker on the football team for 4 years. He completed his DVM at Ross University and finished his clinical year at the University of Florida. Dr. Lucas enjoys fitness, boating, spending time with his 2 cats, and playing sports.
---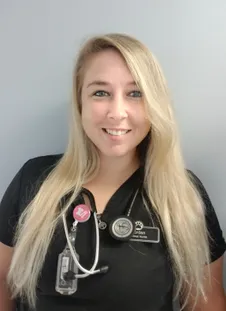 Jordan- Veterinary Assistant
Jordan has been in the veterinary field for 5 years and is a Tampa,Florida native. She shares a home with her husband who is in the Coast Guard, 3 dogs, 5 cats, and a horse named Chucky. During her free time, she enjoys gardening, archery, photography, and hunting.
---
Diana- Veterinary Assistant
Diana has been in the veterinary field for 8 years. She is originally from Wilson, NC and is married with 1 child, 2 dogs, 7 cats, fish, and snails. She enjoys gardening and spending time with her family during her free time.
---
Jennifer- Practice Manager
Jennifer is originally from Maryland but has lived here for 15 years. She is married with 6 dogs, 11 chickens and 1 rooster. She has worked in the veterinary field for 15 years. She enjoys going on long hikes with her dogs and observing nature at its finest. In her spare time, she loves fostering Brittany Spaniels through NBRAN.
---
Jenny- Lead Veterinary Assistant (Captain-CHS)
Jenny is a Hertford, NC local that has worked in the veterinary field for 6 years. She is married to a machinery technician in the Coast Guard with 9 cats and 1 mastiff. She enjoys playing with her cats, working out, gardening during her free time.
---
Dan- Veterinary Assistant
Dan is a Virginia Beach, VA local and is retired, but found interest in the veterinary field and has been a part of our team for a year now. He has 8 cats and enjoys reading and watching TV.
---
Courtney- Veterinary Technician (RVT)
Courtney is a Camden, NC local that has been in the veterinary field for 4 years. She has 1 dog and 3 cats. In her spare time, she enjoys binge watching Netflix and traveling.
---
Heather- Veterinary Technician (RVT)
Heather is a Hertford, NC local that has worked in the veterinary field for 1 year. She attended the Veterinary Medical Technology program through Central Carolina Community college. In her spare time she enjoys crafts, fishing, and spending time with her rescue kitty Graycie.